Multiple Profile Options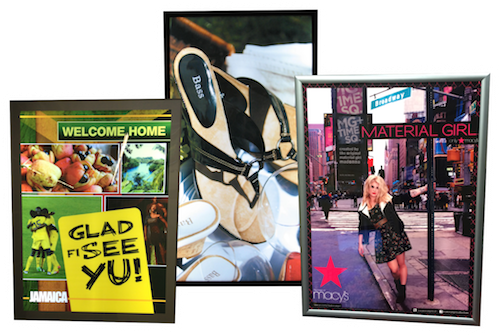 ILM Light Boxes is proud to manufacture all of our products based on the specific needs of our customer's.  We have been designing and building light boxes for the last ten years.  We continue to evolve and add new solutions to accommodate our customer base.  Our signature light box is a magnetic style frame but we manufacture multiple profiles and styles in our Largo, FL production facility.  Here's a brief summary of the light boxes that we offer:
Thin profile magnetic light boxes are available in custom sizes up to 4′ x 8′.  There are two profile options available.  A 1-15/16″ deep and 1-1/8″ deep box.  The face of the light box is held in place with a magnetic system.  We used edge lit technology to illuminate an etched acrylic grid that carries light across the back panel.  This style offers quick one person poster changes.
Snap frame light boxes are a new addition to our product line.  They are only 7/8″ deep and manufactured in sizes up to 4′ x 8′.  The snap frames are available in standard and custom colors.  Snap frame boxes also offer quick one person poster changes.
Our fabric LED light boxes are available in 1-1/4″ deep and 3.94″ deep profiles.  The fabric boxes offer a beautiful seamless image that bleeds to the edge of the frame.  The fabric prints produce a highly saturated color profile and "green" printing solution.  The deeper 3.94″ profile is a perfect solution for oversize applications.
Lastly ILM manufactures 4″ deep backlit LED or fluorescent light boxes.  The inside of the backlit light boxes are populated with LED's or fluorescent fixtures and offer a bright pop of color to grab customer's attention and fill large spaces.