Lobby Update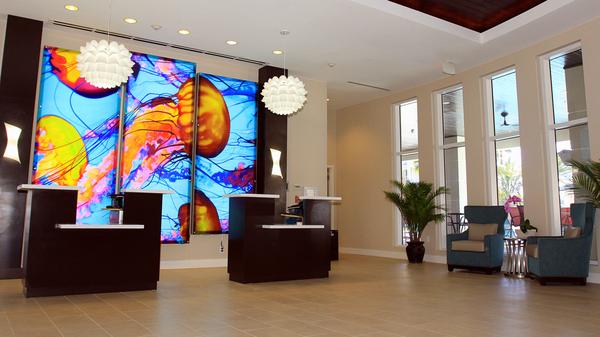 Shephard's Beach Resort in Clearwater Beach, FL  is a family-owned property that has been a staple in the community for the last 20 years.  They recently completed a large scale 11-month renovation project that included demolition of an older two-story section of the hotel and pool area.  The project added 93 new hotel rooms, a 7,000-square foot pool and deck area, a conference room and multiple restaurants.  Part of this massive renovation included a brand new lobby in the main tower.
ILM was contacted by Shephard's General Manager to create a backlit LED light box to display a colorful underwater scene.  ILM provided three backlit LED light boxes that were 4′ x 10′ and installed to create one image.  The art was supplied by Wendover Art and printed on second surface acrylic panels.  The panels were then attached to the light box using stand-offs.  The end result was a stunning display that sets the tone for the entire lobby and welcomes hotel guests to Clearwater Beach.  To see another project like this visit our website and view our illuminated stained glass windows.
This project was a custom creation based on the customer's specific requirements.  We are happy to work with you to design your next project.  All of our light boxes and signs are made to order.  If you don't see a solution on our website please contact ILM so we can provide a special solution just for you.